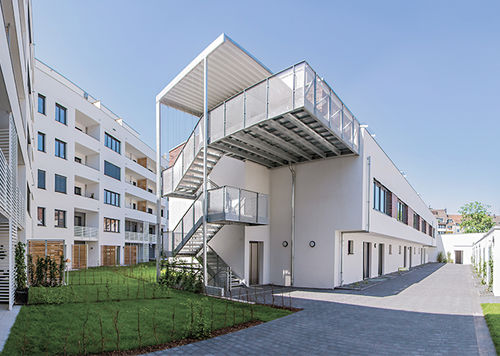 Living - for rent
The building of the Beuth Lofts & Houses in the Düsseldorf district of Pempelfort impresses thanks to its 51 top-quality rental homes offering a variety of different sizes and designs. The six-floor building complex is located along the Beuthstraße and Adlerstraße and houses another building block in the courtyard.
Beuth Lofts & Houses convinces with up-to-date, stylish apartments. Town houses, city apartments, roof houses, garden houses and garden lofts cover the whole range of demands as to urban living.
The distinguishing feature of Beuth Lofts & Houses is the premium-quality architecture which continues even inside the building. The clear ceiling height of 2.70 m in combination with the down-to-floor windows and the genuine wood parquet equipped with a floor heating create an elegant, high-quality and prodigious living environment. All units dispose of an open space such as balcony, terrace and/or garden. Moreover, the building offers a high standard with respect to energy efficiency.
Upon its completion, the project has been fully let and successfully sold to an institutional investor.